How to: Create a New Wiki Page
From WikiAdvocacy
FIRST, make sure you are logged in to the wiki site!!! You will not be able to create a new page otherwise. If you do not already have a wiki account, creating one is free and easy – you will only need a username and password.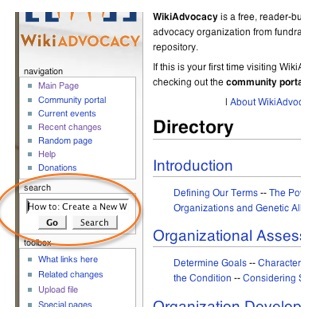 On the wiki site's main page, you will find a "search" box in the left-hand toolbar. Enter the desired title of the page you want to create into the search box, and then press go.
For example, if I want to create a page titled 'How to: Create a New Wiki Page', I will type that exact phrase into the search box.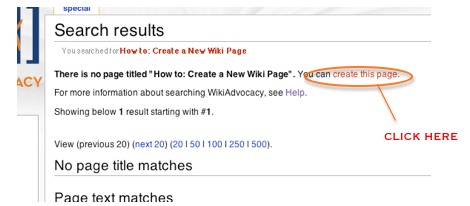 Your search results should yield similar results unless there is an existing page with your desired title (if there is, you can go back to the previous page and enter a new, modified name for your page). Click on the link that says 'Create this page'. A page with your desired title will be created.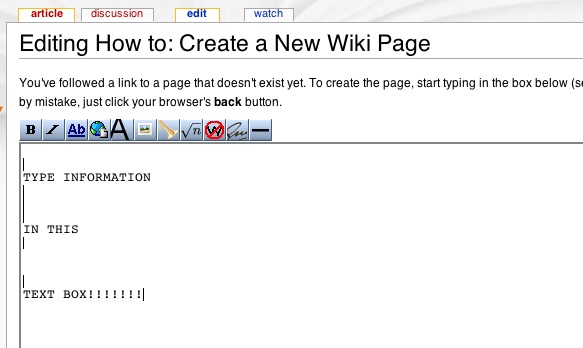 Now that your page has been created, you must add content to the page. Insert information, graphics, links, tables, etc. into the text box shown. For tips on basic wiki formatting, visit: http://wikigenetics.org/index.php/Basic_Formatting

When you are finished adding content, scroll to the bottom of the page and click 'Save page'. If you desire to preview your new page before saving it, click 'Show preview', then click 'Save page' once you are pleased with the page.
When you click 'Save page', you will be taken to your new page.


You can edit your page at any time by clicking the 'edit' option on the row of tabs at the top of the page.
Once your page is created, you may want to add a link on another page/table of contents to your page so it is more accessible. On the other page, where you want your page to link in, type: [[Your Page's Name]].
For example, if I wanted to add a link for THIS page on another page on the wiki site, I would type: [[How to: Create a New Wiki Page]]