Difference between revisions of "Disease Advocacy Organization (DAO) Manual"
From WikiAdvocacy
Line 70:
Line 70:
 

==User Support==

 

==User Support==

 
 
−

To be updated...

+
---
Revision as of 21:49, 7 January 2015
The following is the overview your DAO would have to take to successfully setup and launch a White Label Package connected through the PEER portal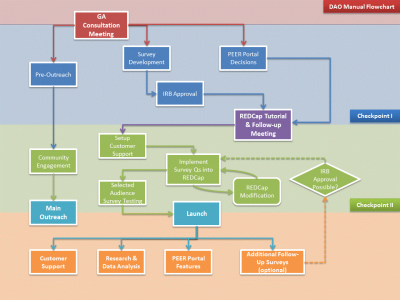 Initial Consultation with Genetic Alliance
To be updated...
Expectations
Katherine
Setting up the PEER Portal
To be updated...
Timeline
To be updated...
Pre-Outreach Efforts
Katherine - move Renee content
PEER Portal Design Decisions
To be updated...
Content and User Interface(UI)
Katherine - wait for new system?
Videos & Guides Development
Tanya
Survey Questions and Development
Wayne
Question Formatting
Wayne
Using the PEER Questions Manager
Wayne
Editing Survey Questions
Wayne
Setting Up User Support System (Customer Support)
Tanya
Selected Audience Survey Testing
Katherine input
Launch
To be updated...
Full Outreach and Community Engagement
Erika adapting Renee
Research & Data
To be updated...
Additional Surveys & Updates
To be updated...
User Support
Wayne (eventually)